In order to place titles on hold, you will need your library card number and the password for your account. Please contact us at 406-322-5009 or at slibrary@mtlib.org if you need this information. We will be happy to provide this for you.
Locating the Online Catalog & Logging In
Once you have located your library card number and password, you can move to your computer, laptop, or tablet.
The url for the online catalog is https://mtsc.ent.sirsi.net/client/en_US/SWCL/ Feel free to bookmark the url to easily find it next time. Another easy way to find the catalog is through our website at
https://stillwatercountylibrary.org/browse-books/

The very first link is the online catalog. Once you click on the link, you should see the screen below. Next, you will click on the LOG IN option at the top of page.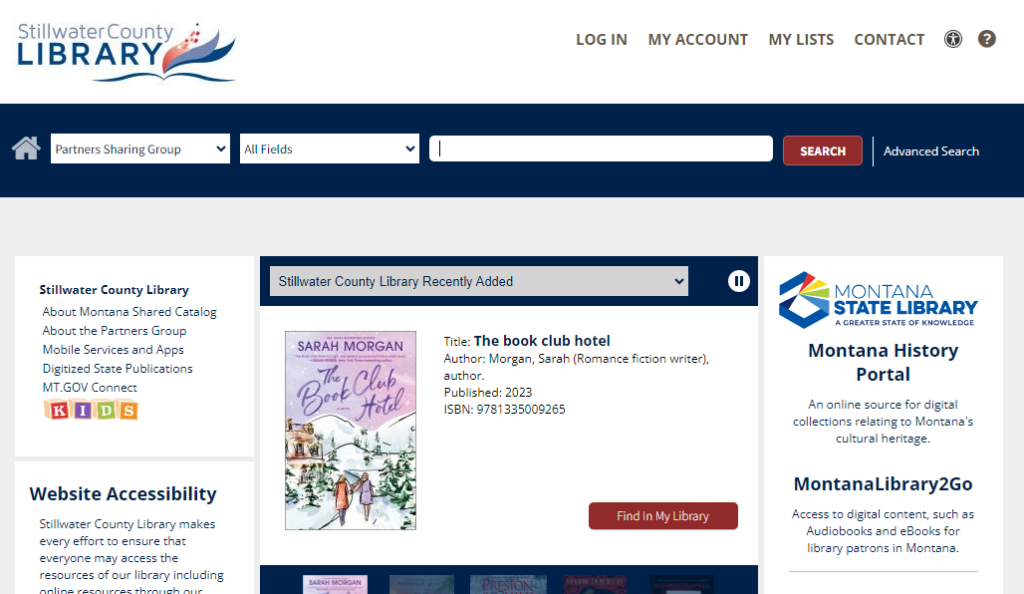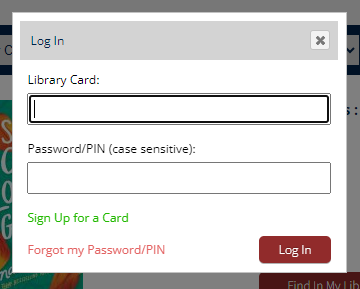 This is what you will see when you click LOG IN. You will enter your library card number and password here. If the password does not work, check to see if the CAPS LOCK is on.
Once you are logged in, the screen doesn't look different, but a LOG OUT option appears at the top of the page now.
My Account
Now that you are logged in, you can navigate to MY ACCOUNT at the top. You are able to change any of your information including your address, email, phone number, and password. Please call us at 406-322-5009 if you need assistance.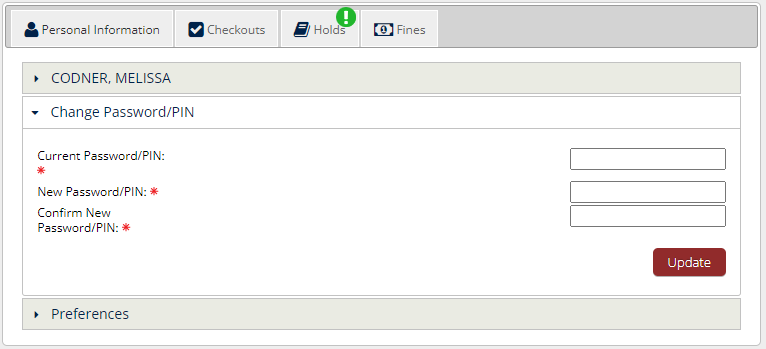 On the PREFERENCES tab, you can also enable the system to record what titles you have checked out by checking the Record my checkout history box. Checking the Show my checkout history box will make that list visible on your Account page. Click the red UPDATE button to save your preferences.

On the SMS (Text) NOTIFICATION tab, you can enable SMS (Short Message Service) notifications. SMS sends text-only messages of up to 160 characters to mobile devices. Users can currently opt into text notifications for overdue notices, which include a day-before-due courtesy notice, hold notices, direct messages, and/or user announcements.
To enable SMS:
Select the red ADD SMS NOTIFICATION button. A pop-up box will appear.
Select a LABEL of your choosing to identify your account in the messages.
Add your phone number, area code included, with no spaces, dashes, or dots.
Check the boxes for the messages you wish to receive.
Select SAVE.

Checkouts
Next to the Personal Information tab is the Checkouts tab. This is a great resource if you know you have a book out but can't remember the title or due date. You also have the option to select the titles to renew without having to contact the library. If an item has been renewed twice already or had a hold placed on it by another patron, you will not be able to renew it.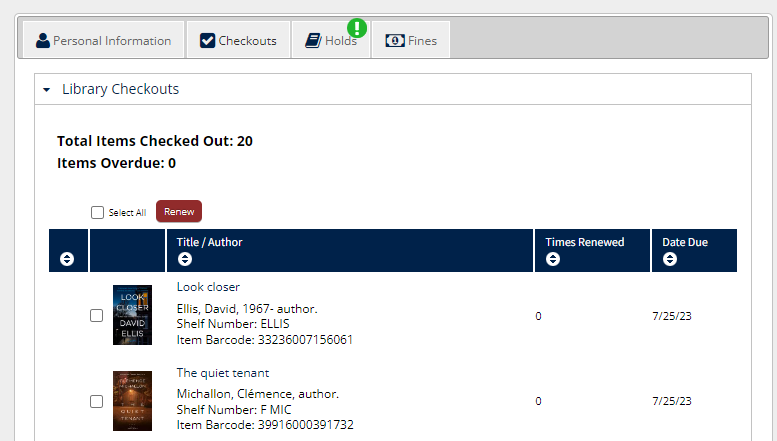 Holds
The third tab is a list of the current titles you have on hold. From here you can cancel, edit the pickup location, edit, suspend, or cancel your hold.

Fines
We are fine free but do require replacement or payment for lost or damaged books.
My Lists
You can use lists inside the Online Catalog for a multitude of uses.
One for everyone in your family (each one of your children, your spouse, etc)
One for books you want to read (TBR)
One for books you read and liked
One for books you read and didn't like (stay away from that author, etc)
To create a list:
From the left-hand side panel, select the notebook(+) to create a brand new list.
Name your list. I am naming my list TBR (To Be Read).
Now you have a list to add titles to.
Once you are ready for your next read, you can simply go to one of your lists, click on multiple titles, then place holds all in one click.
Navigating the Home Page
Feel free to click on any of the links on the left-hand side to further explore that information. We will go over the KIDS Catalog in another blog post.
In the search bar, type in one of your favorite authors. It will default to the whole Partners Sharing Group, which includes about 40 libraries throughout Montana.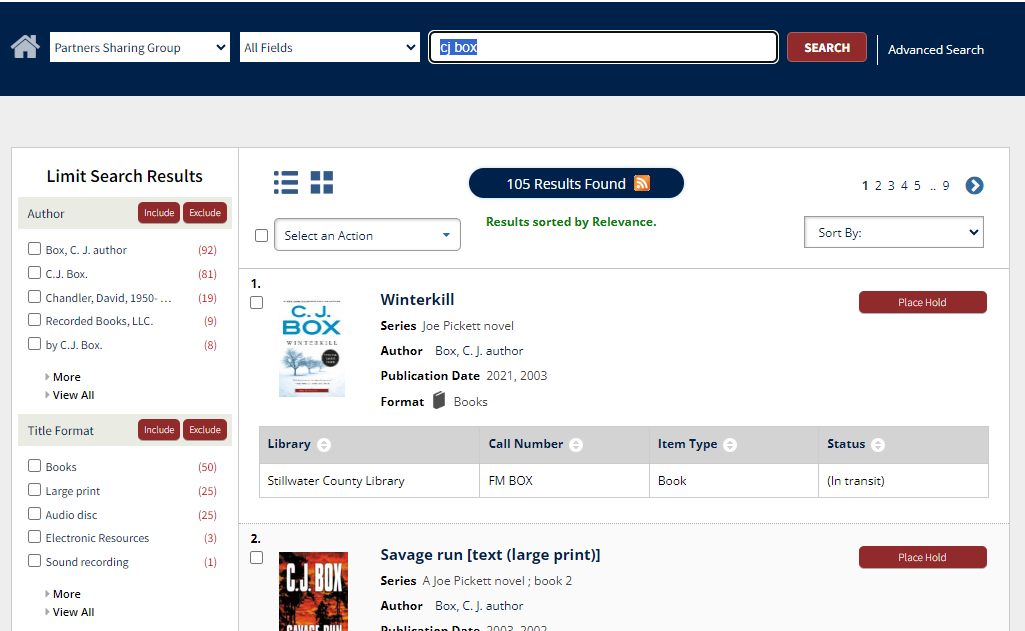 You can further sort the search options by utilizing the filters on the left-hand side of the screen or by using the ADVANCED SEARCH next to the main search bar.
Title Format
Lending Library
Shelf Location
Subject
Publication Date
Item Format
Audience/Department
Genre/Subject
Language
Selecting a Title and Placing it on Hold
Once you have your author typed in the search bar and see results, you can place the title on hold from here by clicking the Place Hold button.
What happens after I place the title on hold?
Every day, our library receives a report on the requested items that patrons want to borrow from the shelves. These could be our patrons or patrons from one of our over 40 partner libraries. If the book is for someone local to our library, we call them to let them know it is waiting for them. If it is for someone at another library across Montana, we place it in the corresponding crate for our courier to pick up and distribute. Currently, the average wait time for a title is 22 days, obviously, some popular titles will take longer. Once the title is on our holds shelf and we call you, you have 8 business days to pick up your items.
Can I still place a title on hold when it has a due date below the Status?
Absolutely, yes. Please do, especially if it is a popular title. An algorithm is in place to determine the quickest way to get a book to a patron.
Selecting a Book by Subject
This is a great way to find materials about a subject or your new hobby. At the top, make sure All Fields is selected. For this query, we do not want the title or author selected. Type in what you are wanting to learn more about. I am going to type in CANNING. 201 pages of options show up when searched. Scroll through and click place hold on any of the titles you want to have reserved for you.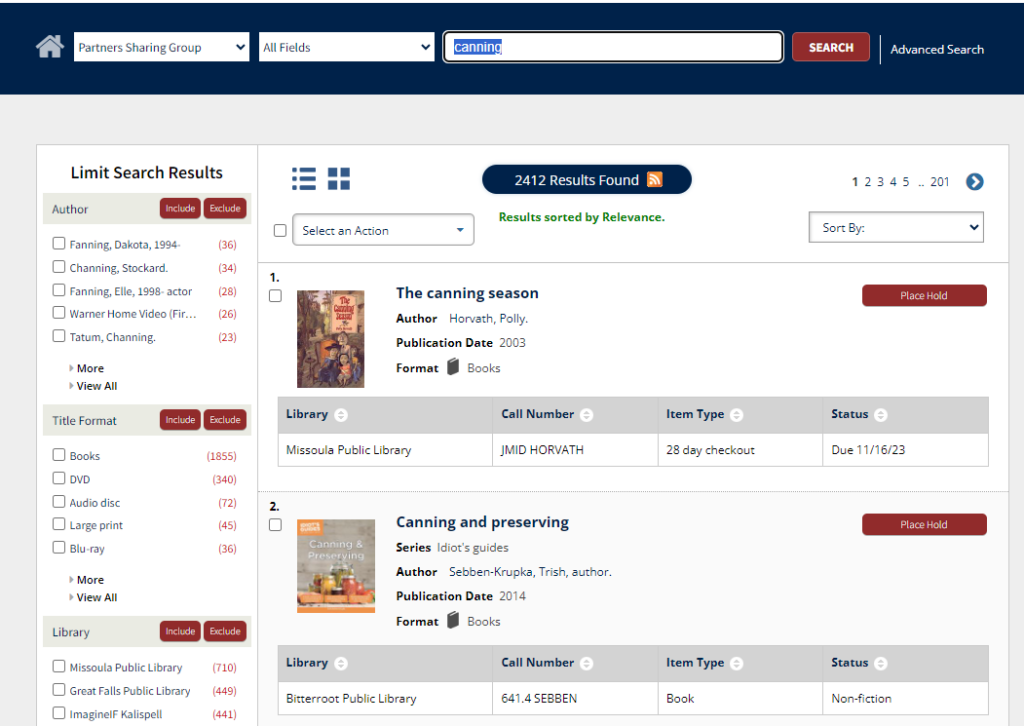 Searching For a Book at Stillwater County Library
What if you need a book right away? You can filter the search selection to your home library. Underneath the library logo is where you will use the drop-down menu to select Stillwater County Library.


You will now only see titles available at Stillwater County Library. Titles without a due date should be on the shelf.
If you are in the library, you can use the card catalog computer to search for books and locate them on the shelves or ask library staff for assistance. We'd be glad to helpl!